SERVPRO Is The Best Choice For Water Damage Restoration In Los Alamitos
6/23/2022 (Permalink)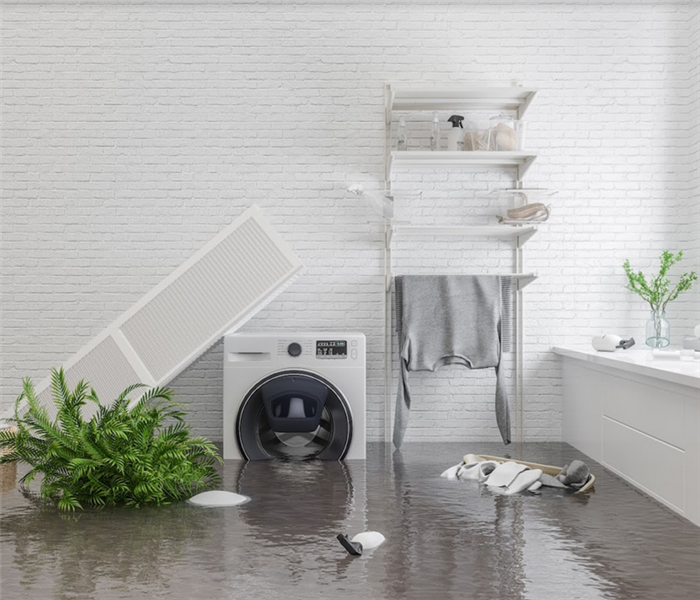 Washing machine hose failures tend to dump a large amount of water on your floor. Contact our SERVPRO team right away for water removal services.
Remediating The Effects Of Water Damage In Los Alamitos
The average rainfall does not concern Los Alamitos homeowners usually. The water that floods their homes more often comes from a split washing machine hose or a cracked pipe connection underneath a sink.
When that happens, water can damage Los Alamitos structural and personal property. SERVPRO restoration teams work to clean up, restore, or replace both types, returning homes to their original, pre-flooded condition.
They start by removing any water standing on floors or pooled in carpets. If the water is high enough, they use commercial grade pumps to remove it. In most homes, the water is perhaps just an inch or so above the surface, so extraction wands work effectively. Technicians can adjust the speed up to quickly draw water off kitchen linoleum to prevent waters and air bubbles from forming underneath.
They can also lower the speed to remove water from carpets without damaging the nape, pulling fibers out of the top layer. It also helps to prevent delamination if the water sat long enough to loosen the glue holding the top and bottom layers together.
As SERVPRO team members protect the floors, others begin work on the furniture. Once we enter the home, they raise any items sitting in the water on blocks in a dry part of the home. Now, one of our inspectors examines the wood to determine if the kitchen table can dry on its own, or if an easy chair needs assistance to prevent warping or cracking.
To speed up the drying process, technicians install a dehumidifier to draw water from the affected furniture which slowly removes water without causing further damage. If the items absorbed much water, team members might also use air movers to direct warm, dry air over the wood to carefully force out the moisture so the dehumidifiers can more quickly absorb it from the air.
Other team members use more air movers to remove water that may have seeped into the walls from the standing water. As the air movers start to work, technicians set up fans in windows and doorways to remove the damp, cool air inside from home. If the drywall panels absorbed too much water and have begun to crumble, they remove them for disposal.
At SERVPRO of Seal Beach / Los Alamitos / Cypress, our goal is to stop water damage and then remediate the effects in each home. If you have a flooding problem in your residence, call us at (562) 431-9400 today to schedule a visit or inspection.