How Do I Rid My Home of the Smell of Smoke after a Seal Beach Fire?
1/19/2022 (Permalink)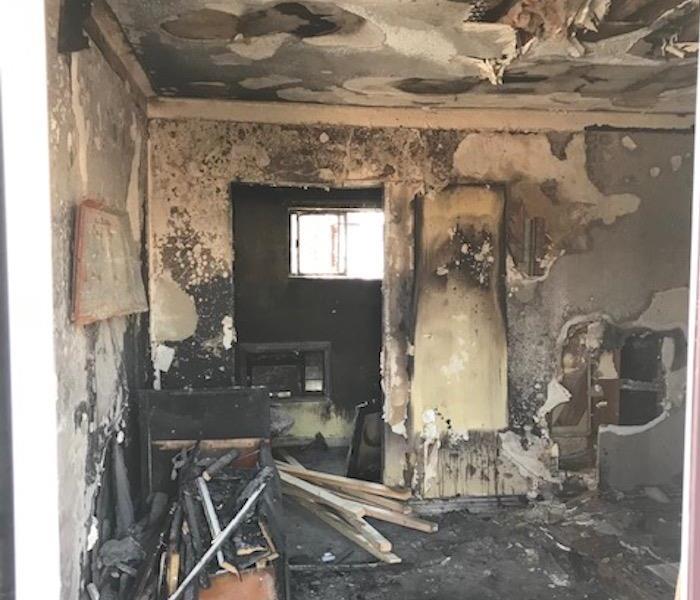 Fire damaged Seal Beach structures smoke odor removal and restoration begin with demolition. SERVPRO is Here to Help
SERVPRO Talks About Removing House Fire Odors in Seal Beach
Fires release stubborn malodors into Seal Beach homes in the form of smoke. These odor particles are invisible to the naked eye and tough to remove. SERVPRO operates with special odor control technicians to help homeowners overcome air-quality Issues after a fire.
Why Are Smoke Odors Hard to Remove?
When materials in Seal Beach burn, they release gases into the surrounding environment. Odor particles are volatile molecules that can attach to the air. While smoke odors do disperse naturally into the air, they become unnoticeable in an enclosed environment, and they can linger for much longer. Microscopic particles can enter wood grains, surfaces without appropriate finish, fabrics, furniture, and carpets. Once bonded to material, they can continue to cause unpleasant odors into a home, which may persist after regular cleaning methods.
Is it Safe to Stay in My Home After a Recent Fire?
Fires can release harmful emissions and noxious gases into the environment. These can be very risky after inhalation or ingestion. However, most harmful gasses like carbon monoxide dissipate quickly, meaning that home is usually safe to return to a few hours after extinguishing the flames. You should wait to receive an all-clear from a fire marshal before re-entering the property and bring in professional restorers quickly who can inspect for further structural damage or other high-risk areas in the home. Most house fire restoration focuses on removing smoke, soot, and odors rather than structural problems, although a severe house fire may require remodeling or reconstruction.
What Steps Can I Take to Reduce Further Losses in a Fire-damaged Structure?
If the fire in Seal Beach is confined to a single area, make efforts to contain that area from the rest of the home by closing doors or putting up old fabrics to block the movement of odor particles.
Place old sheets or fabrics over surfaces and furniture. Covering surfaces can reduce further loss by stopping falling soots from bonding with the surfaces below.
Opening windows and ventilating the space can encourage the dispersal of unpleasant odors.
Try to reduce foot traffic over the affected area. Soot spreads around the home on shoes or clothing.
Light vacuum walls, ceilings, surfaces, and floors to remove dry soot deposits from the surface.
What Are Dry Soots, and How Can I Remove them from my Property?
Natural materials like wood generally produce dry soots. Dry soots tend to be easier to remove from surfaces because they are less likely to bond with them. Wet cleaning methods can push dry soot deeper into a surface or spread them around. Avoid introducing moisture until a SERVPRO technician arrives. Instead, you can brush or vacuum surfaces with smoke damage to remove dry soots. Switch your heating, ventilation, and air conditioning (HVAC) off until a technician arrives. Dry soots can quickly enter venting ducts or supply-side ducts and spread through the home on air currents. HVAC systems can also spread odors to other rooms in the house.
Can I Remove Wet or Greasy Soot Deposits Myself?
Wet smokes are odorous and are likely to bond with surfaces. The burning of synthetic materials like plastics creates soot deposits. Finishes on appliances and wood finishes can release wet smoke into the home when they burn. Unlike dry soots, wet soot requires expertise to remove them efficiently. SERVPRO fire and smoke damage restoration technicians (FSRT) may need to use oil-based solvents to dissolve and eradicate wet smoke. We always pre-test surfaces to ascertain how well the surface responds to a cleaning method. Pre-testing can limit further damages.
What Kind of Items Should I Pre-test Before Performing Fire Restoration?
Soft furnishings can shrink, bleed, or suffer watermarks when applying cleaning solutions.
Sensitive materials like leathers, velvets, or other fabrics
Ceiling and upper wall smoke deposits should be pre-tested to define whether smokes are wet or dry
Carpets can also lose color, or fibers can become damaged when introducing cleaning agents without pre-testing
All smoke deposits should be tested for pH balance to ascertain whether to introduce alkaline or acidic cleaning products
How Can I Restore My Indoor Air Quality After Fire Damage?
Indoor air quality can include odors or other gases that may remain in a property after a fire. Microscopic soots or dust can be harmful to ingest or inhale and should be removed entirely from your home to return it to its original state. Our technicians can deploy air filtration devices (AFD) to filter the air within your property. AFDs use layers of filters to pass indoor air and remove particles. A fan element pushes clean air back into the room. These can be useful tools for controlling and dealing with odor as well as microscopic soots.
When a fire strikes your property, it can be tough to return to its original condition without professional assistance. Contact SERVPRO of Seal Beach / Los Alamitos / Cypress at (714) 236-9599.