How Do I Find a Water Restoration Services Company?
9/3/2020 (Permalink)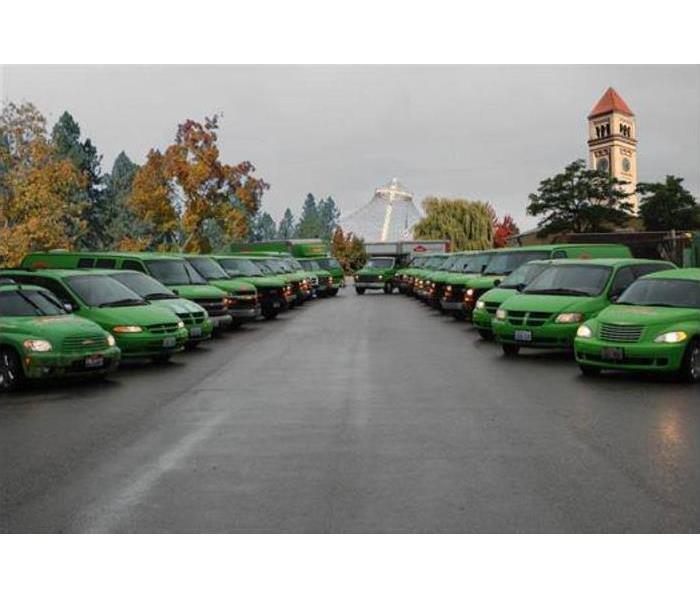 Each vehicle in our green fleet is stocked with equipment and available at a moment's notice to restore your home.
SERVPRO Stands Ready to Assist You With Any Size Water Damage in Your Seal Beach Property
The need for a company to clean up and restore your property and contents can arrive in many forms. Good ways to find a local company is to ask friends, coworkers, or your insurance agent for a recommendation. While busted pipes and toilet backups may spring to mind, leaks can also form from an upstairs shower pan coming through a ceiling, leaking roof, or a utility closet from a boiler on a furnace or a hot water tank. All of these can cause issues from loss of building materials to creating an ideal environment for a mold infestation to take hold. SERVPRO techs have the advanced equipment to turn the damage around and return the home to how it was before the water incident happened. The key to reducing the number of items that require disposal is to begin the water cleanup in Seal Beach as rapidly as possible.
Can Water Restoration Companies Handle Water Removal and Mold Remediation?
When you choose among water restoration companies for handling water cleanup in your Seal Beach home, there are many considerations to help you narrow down to the best choice. Ask questions such as:
Does the company work with your insurance carrier?
Is there any report that shows the actions taken within the property and items removed as too damaged for repair or restoration?
Are the employees trained and certified?
What Are Some Early Warning Signs of Water Damage?
Many water problems in a home begin as small issues, like a slow leak from a pipe or appliance. Then as time goes by without any repairs happening, the problem continues to grow. There are many ways your home will tell you that there is a problem, including:
Water stains on walls or ceilings
Blisters or bubbles in the paint from collected water
Signs of mold
Buckling or deterioration of building materials
What Does "Out of Scope" Mean During Water Damage Cleanup?
Your homeowner's insurance policy spells out very explicitly what types of issues it covers. SERVPRO has communication with property owners and insurance agents to ensure that every aspect of the water mitigation in Seal Beach within the home falls under a covered action.
we do not complete work without the permission of the homeowner or adjuster; this attention to detail keeps situations such as unexpected billing for out-of-pocket expenses not covered by the policy from happening.
One of the biggest justifications to outsource your home's cleanup is the equipment that SERVPRO has access to use. The extraction equipment has attachments for all types of surfaces, from concrete floors to the deepest pile carpet. The powerful suction pulls up even embedded moisture and lessens the time needed for drying, which helps keep mold from being part of the problem. The drying equipment gets deployed in tandem with industrial dehumidification devices, and this setup works to lower the air moisture levels rapidly.
Mold Remediation is sometimes part of the cleanup process after water damage gets identified and mitigated. The handling of a mold problem in a home typically is a multi-layered process. SERVPRO technicians scope the property to identify all areas with colony growth and then set up containment and air scrubbers to reduce the spread of airborne spores. The techs very carefully dry existing colonies and use abatement techniques from manual removal methods to soda and ice blasting depending on the surfaces the dry matter is on. After handling the mold remediation, the techs go over the reason for the favorable environment for the infestation with the homeowner and suggest the changes or repairs that need to happen to ensure there is no return of the issue. Frequently seen issues besides slow leaks include poor ventilation and inadequate water cleanup from a previous water event.
Post mitigation actions may include odor control to get rid of musty odors or the removal of water stains on the carpet through methods such as rewetting or using steam cleaning to lift away the discoloration. In cases where mold remediation occurred, the techs inspect and clean the ductwork in the home to assure that there are no more issues. The technicians may also rely on proactive mold preventatives such as antimicrobial sealants over areas where colonies lived previously.
Contact SERVPRO of Seal Beach / Los Alamitos / Cypress at (562) 431-9400 when you need help from one of the top-rated water restoration enterprises in the local area. The certified, experienced technicians arrive quickly and make the water damage to your home, "Like it never even happened."